Since 2017, BPW has been obtaining its electricity exclusively from renewable, carbon-neutral sources with proof of origin, generated without nuclear power, coal or other fossil fuels. In addition, since the beginning of 2020, the company has also been using green natural gas with a certified guarantee of origin. BPW produces part of the electricity used in it home region. The company's own electricity production is to be further expanded in the future; among other things, an additional photovoltaic system is planned for this year on the roof of a new office building at the company's headquarters.
Electricity from own generation
Internally produced electricity
Certified environmental and energy management
Saving energy and thus protecting the planet: BPW is clearly committed to protecting the environment and the careful use of resources and energy in all its business activities. BPW's environmental and energy policy is regarded as an important, obligatory task of corporate management and is continuously improved. BPW sets itself corresponding targets and strives to achieve them on a binding basis. Selected products and services are used to continuously improve energy efficiency and reduce environmental pollution. A very important part of these activities is the implementation and further development of a certified environmental and energy management system in accordance with internationally recognised standards such as ISO 14001 and ISO 50001.
In order to emit as little CO2 as possible, BPW does not use diesel when purchasing new vehicles for its own fleet. If there is no economical electrical solution, petrol engines are the preferred choice. Some of BPW's vehicle fleet is already electric today: whereas in 2016 only diesel was used, by 2019 22 percent of the vehicles were already electrically powered. Even two 40-tonne electric trucks are now used for internal works transport, and 190 of the 195 forklifts are electrically powered. The company has therefore already installed 17 electric filling stations in the three plants of its home region.
Diesel

89%

89%

Electric

11%

11%
Diesel

78%

78%

Electric

22%

22%
Diesel

78%

78%

Electric

22%

22%
Diesel/Petrol

85%

85%

Electric/Hybrid

15%

15%
Diesel/Petrol

83%

83%

Electric/Hybrid

17%

17%
Diesel/Petrol

78%

78%

Electric/Hybrid

22%

22%
Highly efficient new building
Where a 30-metre high warehouse previously housed material for chassis production, a state-of-the-art office building will be build at BPW's headquarters in Wiehl in 2020. On three floors, the multifunctional new building will offer 3,500 square metres of space for the IT department with its computer centre and the teams from product development and process optimisation, among others.
"We are aligning the new building to the most modern standards so that a particularly sustainable office world is created. Not only in terms of the environment, but also for the health of our employees. Ergonomics in the workplace play a central role. That's why we only use height-adjustable desks in new buildings and renovated offices, for example."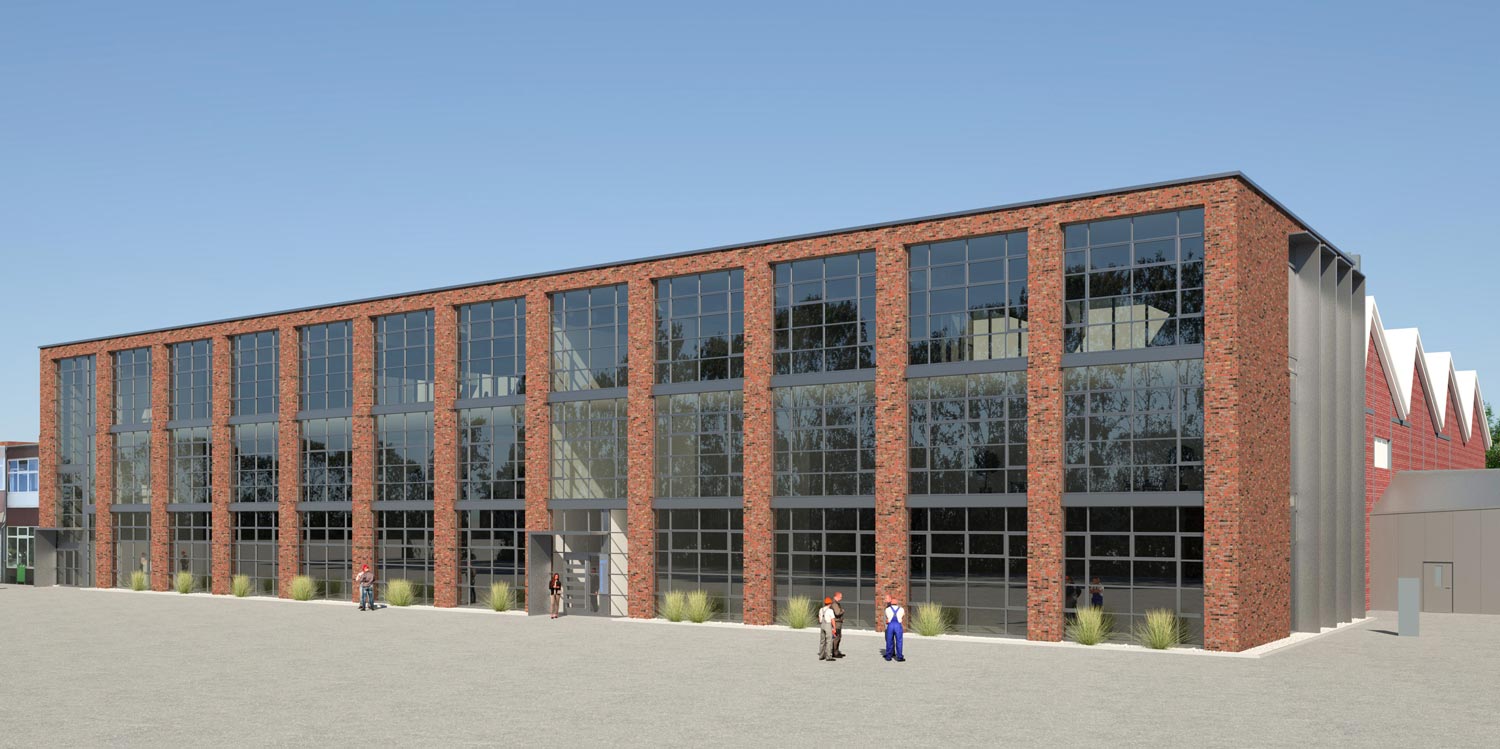 Among other things, the new building will be equipped with a geothermal system that will reduce the building's CO2 emissions by more than 90 percent. In concrete figures, this means: Compared to a building of this size powered by fossil fuels, the building emits around 62,000 kilograms less CO2 for heating and cooling the offices and 119,000 kilograms less for cooling the IT servers. This is a total reduction of 181,000 kilograms of CO2 per year. The heat pump, which is used for heating in winter, is powered by electricity from renewable sources. BPW relies exclusively on 100 percent green electricity with a certificate of origin, which is to be produced in part by the photovoltaic system on the roof of the new building itself.
Reduce waste – increase recycling
BPW produced a full 35 percent less waste in the 2019 reporting year. Although an increase in these figures is expected in 2020 due to demolition and construction works, the company is examining the optimisation of recycling and disposal routes in order to increase the recycling rate to around 80 percent again in the coming years. However, dynamic regulatory effects in the form of waste disposal market regulations regularly present new challenges for waste management.
Tonnes
1,170 t non-hazardous waste
480 t hazardous waste
Tonnes
2,437 t non-hazardous waste
569 t hazardous waste
Tonnes
1,251 t non-hazardous waste
703 t hazardous waste
Preserve a valuable element
The Bergisches Land is known for a lot of water – among other things in the form of an extraordinary number of reservoirs and lots of rain. The water used by BPW flows into the plant primarily to cool the production facilities and is only heated or modified within the approved tolerances. Less than one percent of the water is actually consumed as drinking water. Its use and discharge are strictly monitored in close consultation with the relevant authorities and waste water associations. Employees who operate machines and plants containing water-polluting substances regularly attend training courses on their tasks and obligations in accordance with water protection legislation. State-of-the-art digital water meters with Industry 4.0 technology can also detect optimization potential and leakages. And new production technologies such as the conversion of welding processes have also enabled BPW to further reduce the use of cooling water. This has saved over 80,000 m³ of cooling water.
In the past two years, the overall use of water has been significantly reduced: This is mainly due to the necessary refurbishment and shutdown of the hydroelectric turbine at the Wiehl plant.
Water consumption in cubic meters
With the digital content hub motionist.com, BPW is actively promoting digitalisation, networking – and dialogue. The online portal with current reports, podcasts, interviews and fascinating images from the world of transport and logistics is closely linked to BPW's social media channels. In May 2020 motionist.com was awarded as winner in the digital category at the Automotive Brand Contest.
One year ago motionist.com successfully replaced the printed BPW customer magazine. Due to the conversion BPW saves more than 1 million sheets of paper per year. The sustainability report has also been published exclusively online since 2019. Thus another 67,000 sheets could remain unused. By converting to a digital accounting system in the company, BPW is also reducing the volume of paper in the company by 36,000 sheets of paper and more than 19,000 envelopes.
Of course, digitalisation also means increased energy consumption, which is why BPW decided several years ago to use only green electricity with a certified proof of origin.
To the website
www.motionist.com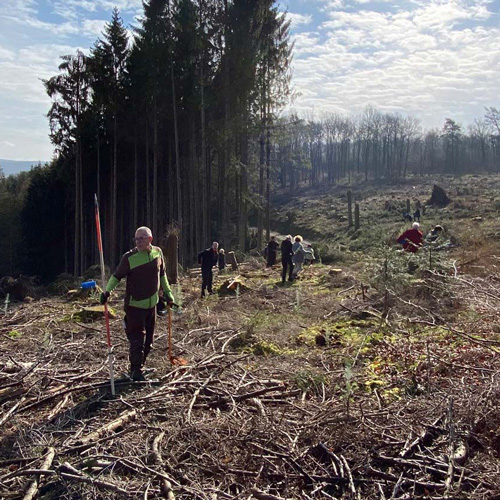 Reforestation in the region
BPW intends to plant 33,000 new trees in the next two years on 11.5 hectares in its home region – an area the size of 16 football fields. The company is thus supporting the reforestation in the region. In spring 2020, 20 BPW employees volunteered to support the NRW forestry office on a pant day. On this occasion, 1,800 larches, Douglas firs and chestnuts were planted in an area that had been hit by storms and bark beetles. Sessile oaks, red oaks, white firs and coastal firs are also to be used in further planting campaigns planned for autumn 2020 and spring 2021. And in order to regenerate the forests in long term, birches, beeches, pines and spruces will be integrated. All species are optimally adapted to the location and are not sensitive to unfavourable climatic conditions.